How to be trained as a Nurse Anesthetist – CRNA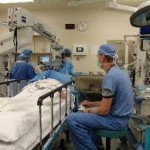 A Nursing professional who has the permission to administer anesthetics is referred to as a Certified Registered Nurse Anesthetist (CRNA).  These professionals mostly work in medical institutions where anesthesia is administered. They provide identical anesthesia services as an Anesthesiologist. Each year 33 million anesthesia are administered to patients in the United States by anesthetists. There will be a great number of job opportunities for nurse anesthetists in the United States as the number of patients and the health industry grow.
Enrollment in the Program (CRNA training courses)
First a person must be a Registered Nurse if interested to become a Certified Registered Nurse Anesthetist. The program is part of a four year degree program. In most states nurse anesthetic must have license to operate by passing certification exam after completion of the degree course. A nurse can enroll in graduate program to become Certified Registered Nurse Anesthetist as discussed earlier or Certified Nurse Midwife (CNM) to oversee prenatal and maternity care services in medical institutions. There are also other fields of advance training for nurses.
To sum up, individual aspiring to become Certified Registered Nurse Anesthetist must have a Bachelor of Nursing degree (BSN) or similar bachelor degree. Must be currently registered nurse, and have work experience at least a year in nursing, and be enrolled in graduate program from accredited graduate school.
Duration of the Program (CRNA training courses)
Duration of the program is from two to three years. There are more than 100 accredited CRNA programs in the United States currently, and these programs include internship at more than 1,800 certified clinics in the United States. Internship is additional time spent in training at the clinics after graduation to become CRNA. Therefore in all, registered nurse needs from seven to nine years for complete training to become Certified Registered Nurse Anesthetist.
Course Lessons for CRNA:
Graduate students for the CRNA program will take lessons in the administering of anesthesia to patient, close monitoring of the performance of vital organs and recovery of patients. They also learn how to collaborate with other professionals like anesthesiologist, dentist and doctors.
Certification of Nurse Anesthetist
Nurse Anesthetists must pass certification exam after completion of the CRNA Program from accredited school and subsequent internship. After internship a nurse anesthetists must prove that they have completed an additional 40 hours of continuing education sponsored by the American Association of Nurse Anesthetists (AANA). They must also prove their experience in administering anesthesia. It is important to prove they have no health conditions that might hinder them from professionally offering their services. Once they satisfy these requirements, they are then certified. 
Scholarship Opportunities for CRNA across the USA:
There is availability of various grants and loans for those who want to pursue degree program in nursing. However an individual who is already a nurse can only apply for special scholarships to pursue CRNA program. Scholarships are offered by the American Association of Nurse Anesthetists every year. Those interested must submit their application before the February dead line each year. Applicants must complete six month of their program before they apply for the scholarship.
There are other scholarships offered by The Department of Veteran Affairs. Applicants are required to offer their services at least a year after completion. Those interested should apply to U.S. Army Graduate Program in Anesthesia Nursing. They are supposed to spend a year in their training at Fort Sam Houston.
There is also the possibility to apply for scholarship directly from the schools that are offering the CRNA programs. University of Michigan in Flint, University of Pittsburgh, and Virginia Commonwealth University are examples of schools that offer scholarships.
Job Opportunities for CRNA:
After training and certification, Certified Registered Nurse Anesthetists can now scan the job market for jobs. They can check from the nursing board of their respective states, and also directly contact medical institutions in their states for available vacancies.
Can Nurse Anesthetist Become Anesthesiologist?
The answer is yes, however the individual must attend medical school and satisfy all the requirements like any other medical student. The professional experience acquired during a person's previous training in nursing and anesthesia will be advantageous in the course of becoming Anesthesiologist.