McGill University: One of the best in Canada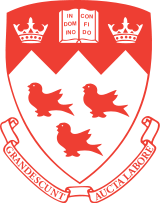 Considering its 300 buildings, the 37,500 students it houses, the 215,000 living students that graduated from it and its reputation for excellence, McGill has earned its place among the world's great universities.
Mission
McGill has for mission to advance learning through teaching, offering scholarship to students and servicing the society around. That is possible by given the chance to outstanding undergraduate and graduate students the best education available. McGill carries out school activities that are of the highest standards and provides services to societies based on its academic strength.
What McGill represents
In Canada, McGill university is known as one of the best institutions of higher education and as the same time recognized as one of the leading university worldwide. The establishment receives each year students coming from 150 different countries, making it the most internationally diverse student body of any institution that is research intensive in Canada.
Since its inception in 1821 the institution has now grown to a bustling university offering more than 300 programs of study in 11 faculties distributed in 2 campuses. Each year about 1000 healthcare professionals graduate from McGill and the affiliated hospitals it has partnered with.
A tradition of success
It is not by accident that McGill is recognized internationally. Key researchers like Ernest Rutherford conducted his research on the nature radioactivity in McGill's labs and that won him a Nobel Prize.
From day one, McGill has invested heavily in innovation and that has lead to the invention of the plexiglass and artificial blood cells.
Research continues today with professors currently working on fields like epigenetics and alternative sources of energies derived from plants, making sure that the human achievement in every field progresses forward. This is possible with the huge number of graduate students forming a vast network of alumni that excel in their respective fields, from award winning authors to astronauts.
The brightest student
Not all students make it to this establishment. McGill offers one of the best faculties in the world and makes sure that only the best students are taken in. This is why the brightest students from the United States, Canada and other parts of the world want to attend that institution.
Students allowed to enter McGill have the highest average in Canada. Because the institution makes sure that the students are provided with all they need to have the best learning experience, it has a lot of it students winning national and international awards and on average, McGill has won more awards compared to its peer universities in Canada. One hundred and thirty two students of McGill received the prestigious Rhodes Scholarship.
Aside academics, McGill students are able to balance their study lives with extracurricular activities. In addition to a rich athletic tradition for which the university has produced Olympians, many other students enjoy taking part in clubs, community groups and associations which adds to the vibrant life on campus and the city of Montréal.
Students also love visiting the city of Montréal. It is a city like no other where the old and the new world meet. it is a nice place to live in. Some international students that come to the university end up spending the rest of the lives in Canada even after graduation. McGill is definitely one of the most recommended universities.