University of Illinois: a world-class leader in research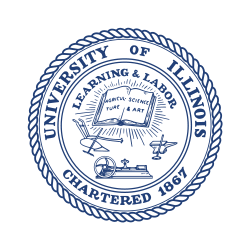 The university of Illinois was founded in 1867, Urbana-Champaign and over time has earned recognition as a world-class leader in teaching, public engagement and research.
Faculty
The university's most significant resource is its talented and highly respected faculty made of recognized departments for their exceptional scholarship with memberships in renowned organizations like the National Academy of Engineering, the American Academy of Arts and Sciences and the National Academy of Sciences.
The success of Illinois' faculty is derived from its hardworking students who have been awarded Nobel Prizes, the Fields Medal in Mathematics and Pulitzer Prizes.
Academic resources
The U or I wants its students to have access to the finest resources in the world. It offers a library that is counted as one of the largest in the world with 11 million volumes spread across 37 units. Every year, the online catalog of the library is visited by about 53 million people. There are computers available all over campus, it doesn't matter if it is in the residence halls, classrooms or libraries. Students can use any of the computer terminals to do their research.
Research
With all the computers available it is not a surprise if student enjoy coming to Illinois to conduct their research.
The university houses the Beckman Institute for Advanced Science and Technology where interdisciplinary research takes place. The institute comprises of 18 different groups selected out of 16 departments that work together within 3 key topics namely molecular and electronic nanostructures, biological intelligence and human-computer intelligent interaction. It is also in this university that the the National Center for Supercomputing Applications (NCSA) is found.

Undergraduate education
The university is committed to make sure that undergraduate students get the best education that can be provided. U of I offers about 4,000 courses to nearly 28,000 students. The courses are offered by nine undergraduate divisions with more than 150 fields of study to choose from.
It is not that easy to be admitted at Illinois, in the 2001 freshmen class, the priority was given to students with a percentile between 83 and 96.
For graduate studies there are more than 100 disciplines to choose from and the institution enrolls about 9,000 graduates each year. When it comes to the number of doctorate degrees awarded every year, Illinois finds itself among the top 5 universities in the U.S.
The university is not only committed to educate students but also wants to have a direct impact on the lives of the citizens of the state. That is why each year about 65,000 Illinois residents are invited to take part in workshops, conferences and courses presented all over the state. Through research and class project, students and professors are also required to get off campus to meet farmers, manufacturers and business people to share their knowledge in the field and help out.
The university of Illinois is the place where great scholars meet to elaborate great ideas which can be implemented across different disciplines. You will certainly not regret attending that university.