Our community draws 120 000 visitors per quarter who access free learning content
9% Of our visitors proceed to visit external University websites that we recommend
0.5% Of our quarterly users are ready to pay and enroll on a distance learning course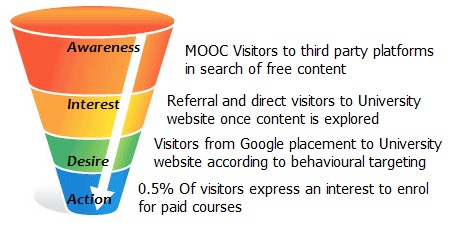 Institutions can access prospective learners from this targeted community through one, or a combination, of the following ways:
1. Engaging exclusively, in real time with our most qualified prospects:
The 600 quarterly prospects provide us with very precise details of what they require and expressly request to be put in touch with a reputable institution for course enrollment. This clean and up to date data includes the name, surname, email, phone number, country of residence, preferred mode of study and subject choice.
2. Targeted advertising through community placement ads:
By using Google Adwords, Universities and colleges already target very specific segments of our community by subject and interest. Contextual advertising placements can be made directly through Google Adwords. The typical cost per visitor in the developing world is around £3 / $4.50 per click and around £10 / $16.00 per click in the USA, Europe, Australia and much of the developed world. Figure 6 below, some frequent placements on Myfreecoursesonline.com. Please visit www.adwords.google.com
3. Attract free visitors to your institution:
We will work with institutions to promote their free learning content in the form of guest publications, journal articles and video recorded lectures. This can be submitted by teaching staff, students, faculties of marketing and a variety of stakeholders which you may wish to appoint. This is an opportunity to raise the profile of any institution wishing to showcase itself along some of the most prestigious educational brands in the world.
Next steps: