Prezi.com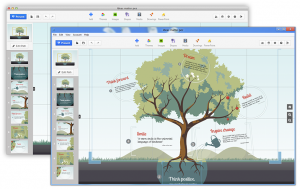 Above is a working file of one of Prezi's most popular "Inspirational" themes, which features a growing tree.
What is Prezi.com?
Prezi.com allows users to create dynamic presentations using their own designs or pre-made templates. The site offers many beautiful backdrops and themes anyone can use to create a captivating slideshow.
To use Prezi.com, you simply write slides and organize them into linear paths. In addition, the unique Zooming User Interface allows for truly spectacular demonstrations, with slides flying in and out of frame as the presenter progresses through them. At the beginning of a demonstration, the software displays the entire backdrop and pathways so that audiences can see the "big picture." Prezi's online cloud-based format also auto-saves all changes, so users don't have to worry about losing any work.
This program is perfect for scholars, storytellers, and business professionals. Presenters can highlight their ideas in many ways, ranging from blossoming 3D flowers to complex organizational flowcharts. Using this software allows audiences to better understand and visualize users' concepts.
In addition to allowing users to present their ideas in new ways, Prezi.com has also developed programs that help people work together on projects. The new "Collaborate" feature lets teams create and edit joint presentations from any location.
What does Prezi cost?
Prezi.com offers its basic software for free in its "Public" package, giving users 100 megabytes of storage and the ability to edit and share their work with others. People who use this version of the site store all their work online publicly, which allows them to gain extra attention. For only $4.92 a month, users get 200 megabytes of storage, private storage, premium technical support, and the ability to create their own logos. For $13.25 a month, users can download a desktop version of the software and 2 gigabytes of data storage.
How have people used it?
Especially because Prezi.com offers a free version of their software, thousands of people have used it. Many speakers at the world-renowned TED talks have used this software in their presentations, including Blackboard, Inc. President. The United Kingdom's The Guardian newspaper also used this program to present a graphic of a World Map in July 2011. Educators at Oregon State University and businesspeople at the World Economic Forum also regularly use this tool.
Users who enjoyed reading this article, should also consider visiting  ask-com