Switzerland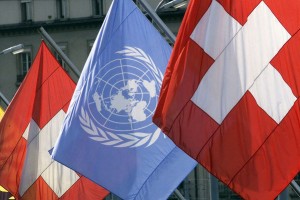 There are many students around the world who consider studying in Switzerland. To stay in the country they will have to obtain the proper permit from the authorities. There is a procedure to get student visas which are issued like work permits just like the one foreign worker get. In general it is much easier for a student living in the European Union to get that visa compared to one living elsewhere.
Depending on the duration of the study those applying outside the European Union will have to fill certain types of forms in addition to certain documents that are expected to be provided. Here is an article to give you a clear idea of what it takes to get a student visa to Switzerland.
The visa types
For students that need to go through a study course that will take less than 90 days, they have to apply for a type C visa. Those who need more than 90 days to finish their course will have to apply for a type D visa.
That said not every person that wants to study in the country needs a visa. Switzerland is the 25th country to join the Schengen zone. Any other participant country is involved in a visa-free moving agreement. This implies that citizens of those states can freely move between borders so far as it is a Schengen area. You just have to do a search online to find out if your country is also involved in the Schengen agreement.
Documents required for student visa
Depending on whether you are applying for a C or D visa type, the documents required might be slightly different but in general, here is what you need to provide:
3 copies of the application forms. The 3 must be filled
4 recent ID pictures
A passport or any other travel document. That document should remain valid until at least 3 months after the course is over.
3 copies of the passport provided. The page where the signature is should be photocopied too.
A return ticket to the country of origin or next country to visit
Proof of having enough funds to take care of expenses while in Switzerland
All the documents required will have to be submitted to the nearest Swiss Embassy/Consulate for processing. It can happen that the Swiss Embassy/Consulate requests you to provide a declaration of guarantee. Foreign students in the country are not allowed to take up employments while there unless they have a work permit. The visa will only be granted to students who can prove they have enough funds to manage their lives once in the country. In general the tuition cost in Switzerland is between CHF 1,266 and 8,000 while the living expenses are between CHF 21,000 and 31,000, depending on the location.
It is recommended to submit the necessary documents as early as possible so that they can be processed. Even though it usually takes between 6 to 8 weeks for you to get a response it might take much longer depending on the season.
Health insurance
Foreign students looking for a D visa will have to get a basic health insurance coverage. This requirement might not apply to students coming from countries that provide international mutual health coverage.
Residence permit
In addition to the visa, a student will also have to request for a residence permit. This only applies to applicants coming on their own to Switzerland who want to attend higher institution. In that case the institution they have applied for should also provided evidence that the person coming has been admitted into the school.
Visa Cost
You can choose to pay the application fee either in cash or by postal orders. Visa fees are not required for minors under the age of 6 years and recognized researchers. For others it will cost between 30 to £50.00 depending on the age of the individual.
The amount of time during which the visa will be valid will depend on the the length of the course taken.
Steps to get admitted in a higher institution in Switzerland
If you are interested in studying in a university in Switzerland you will be required to at least provide a document proving that you did go through high school. Each Swiss university may also request for a specific list of documents before considering you. So make sure you have all academic documents ready before you even apply for admission.
You can research into the in institution's website and find out more about how to apply for a particular course. Some of them accept online applications. First get to know the deadline for application before going ahead. If the deadline is too close you might consider trying another time.
There are also scholarships granted by the Swiss Government. Foreigners can hope to get those scholarships which usually go into science and art. If you are interested in getting any of those you can search for the Swiss Federal Commission for Scholarships (FCS) and get to know what you are required to provide to stand a chance.
What to do once in Switzerland
For those who get their visas, as soon as they arrive in the country, the first thing to do is to present themselves to the appropriate authorities within 10 days of arrival. They should have on them their
– Passport
– Statement of arrival
– Student questionnaire
– Proof that the university has admitted them
– ID Picture
– Proof of having the financial resources required (with amount indicated)
– Guarantee from parents
– Guarantee from a third party
It is only after presenting the documents above that you can request for a residence permit which will cost between $15 to $25 depending on the amount of time you intend to spend in the country.
Then after matriculation you will have to pay the fee for the first semester and take the receipt to the town authorities again. That is the only way to finalize your registration. After that you will be recognized as an official student of the university you are attending.
Benefits of studying in Switzerland
Switzerland is a country that, over the years, has made sure to provide quality education to its citizens. It offers outstanding higher education opportunities. It is among the world most important investors when it comes to teaching.
The fact is by choosing to further your studies is Switzerland, you are choosing an environment that offers high class professionalism in training and that is because the country ranks among the best especially when it comes to science and technology.
The country is not only known for its high standards in education. It also finds itself among the most traveled European countries. That has to do with the beautiful hotels, the food, chocolates, the Alps and of course the beautiful heritage. By studying in Switzerland you get the chance to get exposed to a form of education that is unmatched elsewhere.
There are so many international students in Switzerland that in some universities, they make up to 40% of the population.
Geneva is a multicultural city in the country. It is also the city where headquarters of many international organizations are found. That includes the Red Cross, The United Nations and the World Health Organization. You can expect to bump into a lot of important diplomats and politicians out there. That exposure alone can help you build the links that can help you propel your carrier.
Some of the universities to consider while there are