Alison becomes renowned course portal for worldwide free education
The website Alison.com has come under the spotlight of Google results lately. It provides excellent free courses, much like Myfreecoursesonline.com and has a huge and unique variety of courses, some offered by third parties and others available directly on the Alison website. It would seem that currently (at the time of writing this article) that they also invest significantly in Google PPC advertising to make available free courses in third world countries, as advertising is showing as far afield as Africa and Asia.
Some of the big names of course publishers include Advance learning, Lund university, MIT, Harvard and more. The Khan Acadamy is also mentioned as a course publisher on their portal page.
What makes Alison's free courses unique?
1. What we like most about this site is it's ability to offer diplomas and certification, which means that besides just consuming knowledge, users have the opportunity to receive an accredited qualification upon completion. In the workplace when it is time for job hunting, having a recognition in the form of a diploma is helpful for employers to take candidates more seriously.
2. Variety: Alison has a great variety of courses on offer – which means that people from all walks of life, can find something of interest and take their current career further or head into a totally new direction. It is unlikely that someone from almost any field will not find something really useful on Alison.com's training portal.
3. Free of charge: Because the website is sponsored by Advertisers, they have the amazing opportunity to provide these courses at no charge to the student. A world class example of how an open society should function.
4. Testing and validation: In line with the approach of offering diploma's, Alison also carries out assessment in the form of "testing and validation".
CPD – or continuous professional development is at the core of every profession, thus no matter which line of work we are in, the ability to renew our skills and become updated is key to progress. Alison seems to have a broad match for anyone searching for generic skills to add to their CV.
Just who is Alison?
Based in Ireland, the company is an award winning social enterprise, founded by CEO Mike Feerick. They provided certification to more than 50 000 users in 2011 alone and seems to be growing from strength to strength.
Screenshot from the main Alison website: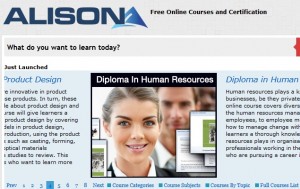 Practicing sustaining development, Manufacturing in product design, Human resources, Personal health and fitness are just a few examples of the exciting list of options available.
Users are encouraged to visit the website – for any courses not currently available on our own site, they may offer a great alternative solution that can help learners achieve and grow further.