The top 50 Journalism Professors
As times are changing and social media is becoming a large part of media, the addition of online newspapers and the more traditional newspapers being washed away, the amount of new material to learn as a journalism student is enormous.  JournalismDegree.org's list of the Top 50 Journalism Professors was created with the intent to inspire prospective students who are interested in pursuing a career in journalism.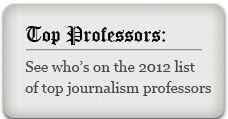 We created this list of professors to help share multiple resources and provide potential assistance to journalism students.  One of the most important ways that young journalists can bolster their careers is by networking with experienced journalists and finding a seasoned mentor in the field. It takes a great deal of practice to be able to identify a good news story, find the right contacts, and bring the story to publication in the ever-faster news cycle engendered by digital technologies. By corresponding with a journalism professor or even a working reporter or editor, young aspiring journalists can learn the behaviors that lead to success in this growingly competitive field.
The number of jobs at traditional journalistic outlets like newspapers and weekly newsmagazines is dwindling, but journalism is far from dead. More written media is being produced now than ever before, and video, audio, and interactive multimedia projects are more accessible than ever due to the rise of smartphones and other ubiquitous media devices. The most successful journalists of the future will be those that can react quickly to changing trends and new publication paradigms without abandoning the traditional journalistic values of well-crafted storytelling, painstaking fact-checking, and the ability to polish a story to perfection quickly.
The only way to build both modern and traditional journalistic skills simultaneously is to study the past without losing sight of the present and future. Studying the careers of successful journalists and journalism educators, such as those featured on JournalismDegree.org's list of the Top 50 Journalism Professors, can be a great way to see the trajectory that journalism has taken over the past years and decades, which is useful information for anyone whose very career depends on being able to anticipate the future of the field. The only thing better than studying success stories is to interact with a successful journalist in person. Students at major universities get this chance all the time because successful journalists often become professors or at least teach classes part time. Anyone with drive can find a mentor in this field, though, and having someone with journalistic experience to guide you throughout your education and in your first steps into a professional career is a priceless resource for any prospective student in journalism.